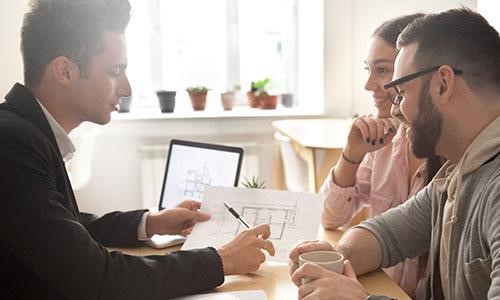 How To Build A Better Relationship Between An Architect & Interior Designer?
If you have recently renovated your home or built a new home from the scratch, you are already well aware of how important it is to hire the appropriate architects and interior designers. This is necessity to create a balanced work relation between your architect and designer.
Luckily at Merino ADCC, you can get the best —architects and interior designers— with just a few clicks. Merino ADCC is an online platform where you can find the best-listed professionals in your locality to build your dream project.
To understand why it's so critical for interior designers and architects in India to work together when completing a task, let's take a quick glance at their essential tasks before delving into the specifics.
Role of An Architect & Interior Designer:
Architect – An architect is crucial to the building process and is in charge of the property's design as well as the supporting components. In other words, architects are in charge of organizing and developing a building's exterior while maximizing the usage of materials using effective design methods.
Interior Designer- An interior designer's responsibilities include organizing, planning, and carrying out the design elements of the decor. They are basically in charge of ensuring that your interiors are exactly as you had envisioned
Define Everyone's Roles From The Start
When divergent yet complementary minds come together, a creative idea is realized. This proceeds most smoothly when all parties perceive their particular roles within the creative vision as its ultimate duty. The listed experts at Merino ADCC are well experienced and will help collaborate on your preferences and ideas.
Create a Unified Vision
Success is built on striving to bring one idea to fruition. The role of architects or interior designers is to figure out how to get there. The best point on which they can collaborate is having a common vision and design narrative across all team members. It's about starting a conversation, getting on the same page, and realizing that everyone is headed in the same direction.
Discuss Material Selection
The works of the interior designer and the architect share a number of interior finishes. Particularly, woodwork, from trimming boards to door frames, is frequently built in accordance with the architect's imaginative concept. Ideally, these choices need to be made in concert with the interior designers. A skilled design and architectural team will guarantee a unified and seamless space in addition to the room's layout, door placement, and material selection.
When these factors are considered in advance, implementation is easier and disputes are less likely to arise later on in the creative process. Register at Merino ADCC to experience smooth interior designers and architects collaboration throughout the entire procedure.