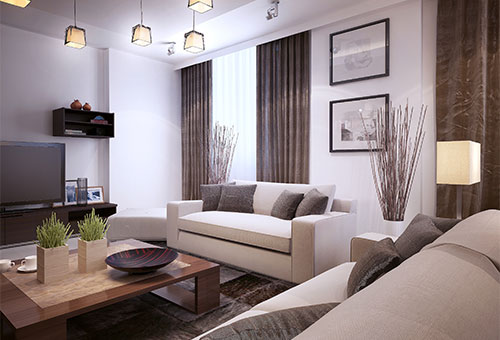 10 Elegant Indian Living Rooms Ideas to Inspire
Designing a space is the extension of your own personality. At Merino ADCC, we help you design your home your way with the help of professional modern interior designers and contractors. They help you choose and understand the best option as per your requirements.
Here's a list of 10 exquisite living room ideas that you can draw inspiration from:
Classic or other furniture design- When thinking of styling your living room, furniture design should always be practical and comfortable. Wooden furniture helps create a light and lovely atmosphere. At Merino ADCC, you can find various living room interior designers who will also help you select the best furniture for your space.
Colourful work of art– Select the most appropriate and relevant decorations, like an attractive painting or a piece of Bohemian art wall, to add colour and make your resting place more tranquil and pleasant. Consult modern architects and interior designers at Merino ADCC – they can introduce you better with ample design possibilities.
Keep it clutter-free- Do not let your living room become cluttered. Have a check on things you want to keep in there. If they are not necessary, you can remove them to create a clean ambiance. You can easily find relevant architects, interior designers and contractors at Merino ADCC who can help you with their expert advice.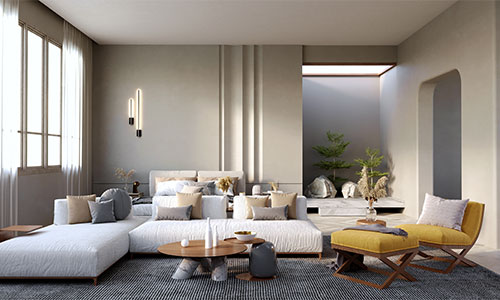 Switch to a golden palette– As a decoration, golden touch is an appropriate and a sure-fire way to create an appealing living space. Take note of how the dark brown furniture contrasts with the golden tones in the room. Hire a professional interior living room designer from Merino ADCC to get that expert advice.
Use an ottoman with upholstery– Depending on your needs, a reupholstered ottoman might serve as a coffee table, footrest, or even extra seating. Laminated or wooden surfaces also serve as great choice for anyone with small children or dogs, and it allows for more pattern play if you choose something entertaining in a seating area.
Strategize with mirrors- It may seem overwhelming to mirror all your walls to bounce light. But hanging a few different wall-spanning mirrors and then personalizing the frames with one paint colour to make them efficient can create a monochrome condition.
Keep the seating flexible- Anything goes in a boho living room, but if you need some inspiration, try this formula: daybed + side chair, armchair, floor pillows, and a couple of stools.
Wall Upholstering– Soft materials, including those on the walls, will help you create a warm atmosphere. A fabric-covered ottoman, textured wall panels, and vibrant paint theme, can give your living room a sophisticated touch. To get expert advice for your dream home, register with us!
Install smart lighting- To create smart ambiance in your living room, opt for smart lighting. Smart lighting is a great alternative for the space, use lighting that can be mounted to the walls or hung from above.
At Merino ADCC, we help you connect with the best architects and interior designers who are well experienced at suggesting tips and tricks to help you build your dream home. Register now and connect with your preferred professional today!
---