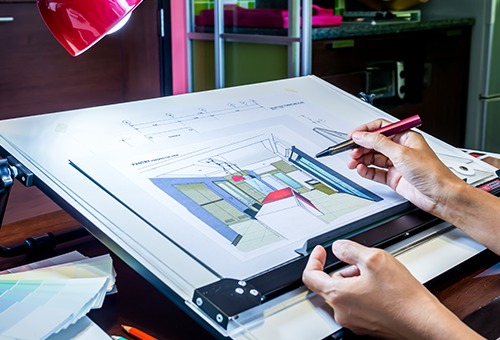 7 Best Interior Decorating Secrets
If you are renovating your current place or starting interior designing from scratch, you may want to consult an interior designer. Being professional experts at uplifting the aesthetics of a space, interior designers are sure to come up with great solutions! Here are some of the top hacks that interior designers use to transform a space:
1. Wait for the colour palette
The most common mistake that interior decorating noobs make is choosing a colour palette in the very beginning, and struggling to stick to it. Instead, get the other interior elements like the couch, the rug, and the chandelier you have had always thought of for this particular space, and let your colour palette evolve as you get going.
2. Not everything has to be brand new
Giving your interiors a new look doesn't mean filling it with brand new pieces of furniture from the store. Sometimes, old is gold, and refurbishing old furniture, and mixing and matching it with some contemporary pieces can give your space an elegant and sophisticated stance. As a recommendation, you could renew the existing furniture with Merino Laminates that offers a spectrum of colours and designs.
3. Every room should have a focal point
Whether you are going with a simple colour palette or braving it up by being bold with your colours, keep in mind to have only one focal point in every room. For example, if your living room is all pastels, your fireplace can have an 'odd' and vibrant colour that stands out. It can potentially become the 'highlighter' of the room.
4. Use houseplants to add colour
One of the best-recommended tips given by the interior designers near me is to add houseplants (both indoors and outdoors), wherever possible. Not only do they instantly brighten up a space, but also purify the air around them. If you are not excellent at gardening, you can get difficult-to-kill plants such as succulents or cacti to add that green to the beautiful canvas of your house.
5. Not everything has to be against the wall
While interacting with a few of the home interior designers near me, it became clear that putting all your furniture against the walls is a big NO. In fact, not having furniture against the wall would make your space look bigger than it actually is.
6. Keeping things at eye level
Hang your paintings and other wall art at eye level. Even if your ceiling is higher than normal, it is perfectly acceptable to leave all that space bare so that people can take in the beauty of the artwork without having to strain their necks.
7. Add more textures
While most people are adventurous enough to mix and match colours, seldom do they mix textures. How about choosing different textures for your walls and floors – so that it is visually clear where your walls end and where your floors start! You can also mix wooden furniture with plush or velvet poufs or ottomans without throwing off the aesthetics of the room. Hope these insights helped you with some wonderful interior ideas. To get your interior designing project kick-started, visit Merino ADCC's website today and find an array of interior designers. Good luck!