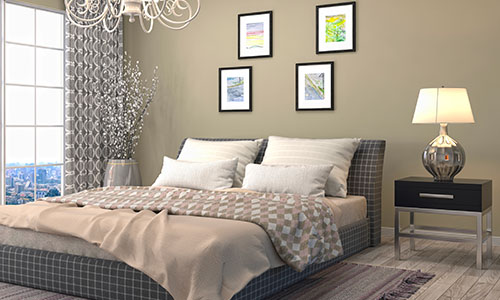 Top 10 Design Ideas to Make Your Bedroom Look More Premium
A bedroom is the reflection of one's personality. A well-kept bedroom is essential for the overall pleasant ambience of the house. You can transform your bedroom by adding changes such as opting for new wall colour, pattern and texture, appropriate lighting, and more.
A well-chosen design adds to the aesthetic value no matter how big or small the space is. To assist you in remodeling your home with appealing designs, Merino ADCC helps you find the right professionals including architects, interior designers, contractors and consultants who guide you with their professional knowledge and experience.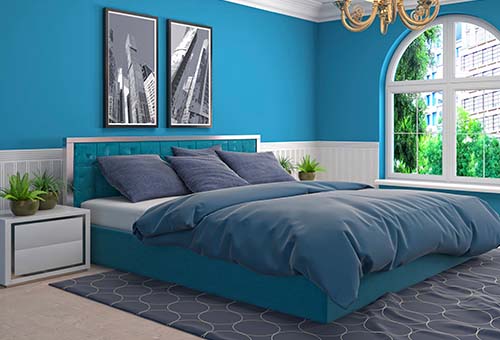 Top 10 design ideas to make your bedroom look more premium:
Laminated headboard
Decorative laminates installed at the headboard is an elegant way to add aesthetic value and utility to the bedroom. It's an affordable alternative to incorporate farmhouse-like decor. Consult a bedroom interior designer at Merino ADCC to get more such ideas.
Bright colour scheme
Choosing the proper colour scheme for bedroom walls is critical for creating a fresh and pleasant ambience. Bright hues such as ocean blue, or neon green add a fresh touch to the bedroom. At Merino ADCC, you can readily find top interior designers who can provide you with expert advice.
Plenty of natural light
When designing a bedroom, natural light setting is crucial. Windows with glass shutters and balconies with glass doors are the best source of natural light in a bedroom. They create a pleasant and peaceful atmosphere. At Merino ADCC, you can find many interior designers who can guide you on the right lighting techniques.
Modular wardrobes
Modular wardrobes in the bedroom are a popular choice. Matt finish, glossy finish, and wardrobes with enclosed mirrors are just a few unique options available. A sliding wardrobe with glass shutters is another impressive way to add style to your home. Interior designers at Merino ADCC suggest you the most up-to-date ideas.
Unique flooring options
When it comes to bedroom flooring, it's all about maintaining that comfort and warmth. Traditional stone and wooden flooring are the most popular choices for most bedroom designs, but Luxury Vinyl Tile is also a great option. Merino Ecoclick+ is a proven click LVT for residential and commercial areas. A skilled interior designer can assist you in exploring more flooring selections that suit your needs.
Eye-catching cabinetry
When it comes to bedside cabinets with storage, professionals at Merino ADCC help you think outside the box– So you end up picking the most unique options.
Minimal furniture and upholstery
To keep your bedroom clutter-free, use minimal furniture. Two armchairs with a small coffee table and an upholstered bench at the foot of the bed can be used for extra seating, depending on your needs. Hire a professional interior bedroom room designer from Merino ADCC to get that expert advice.
A TV unit to create a cozy nook
Whether for aesthetic or relaxing reasons, many people want the opportunity to add a television in their bedroom. A wall-mounted TV with antique sideboards would not only add a contemporary touch, but will also provide ample storage space. Professionals at Merino ADCC can guide you with the perfect TV size depending on your bedroom space.
Vibrant work of art
Choose the most appropriate decorations, like an attractive picture or a piece of Bohemian art wall, to add a splash of colour and make your resting place more tranquil and pleasant.
Mirror magic
With some specific designs, even a small bedroom can be transformed into a magnificent retreat. Large mirrors, hung on either side of the bed, instantly give the room an upscale feel while also adding more light to the space. With the help of professionals available at Merino ADCC, you can strategize your bedroom in a unique way.
Upgrade your bedroom with these modern decor ideas – contact the best home interior designers in India to integrate the best alterations suiting your style. Connect with your preferred professional now!