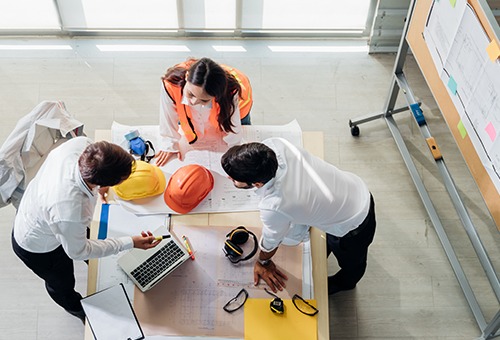 What are the Different Types of Construction Contractors?
The word 'contractor' is an umbrella term to describe those involved in a building or renovation project. However, did you know that there are over fifteen types of construction contractors? Narrowing down the one your project needs becomes easy with Merino ADCC, a platform where you can conveniently locate and contact all kinds of contractors.
But first, let's find out the different types of construction contractors:
General Contractor – A general contractor is the key point of contact for the client. They are the ones who give you cost estimates, arrange subcontractors to carry out the plan and oversee that the whole project is sailing smoothly.
Demolition – In cases where an old place needs to be demolished to construct something brand new, your general contractor typically hires a demolition expert who specializes in tearing down structures.
Excavator – Did you know that before beginning the process of planning, an expert is required to dig up the earth and lay the foundation on which the building stands? This expert is called the excavator.
Drywall and Insulation – They are the professionals who install drywalls and deal with insulating the place while the frame of the house goes up. Apart from these two types of construction contractors, there is a specialized set of contractors to execute the plastering process.
Concrete Specialist – The concrete specialists form another group of construction contractors. Their job is to mix the concrete, they are integral to the construction project.
Masonry and Flooring – The masons deal with setting up brick walls and cementing off the wall to make them smooth. Flooring experts are another bunch of house construction contractors who lay the floors. Merino LVT comes with some of the most decorative and long-lasting flooring options.
Carpenters – Carpenters deal with all the additional woodwork including the installation of cabinets, window and door frames among other components. To add an incredible aesthetic value to your furniture, explore Merino Laminates that offers a range of colours and designs in the laminate category. Visit the website to explore more.
Roofing – Whether it is asphalt shingles, slate, clay, or green roofing that you are considering, your general contractor typically hires a roofing subcontractor for these kinds of jobs.
Electricians – Electricians are also a kind of subcontractor. They make the laying and fixing of wires and outlets possible, keeping it in correspondence to the building
Landscaping – These are the subcontractors who deal with beautifying the outside part of your house – the yard, lawn, hedges, or garden according to your taste.
No matter which kind of contractor your project needs, find them all in one place. Browse through the profiles of all kinds of construction contractors mentioned above on Merino ADCC, right from the comfort of your home.