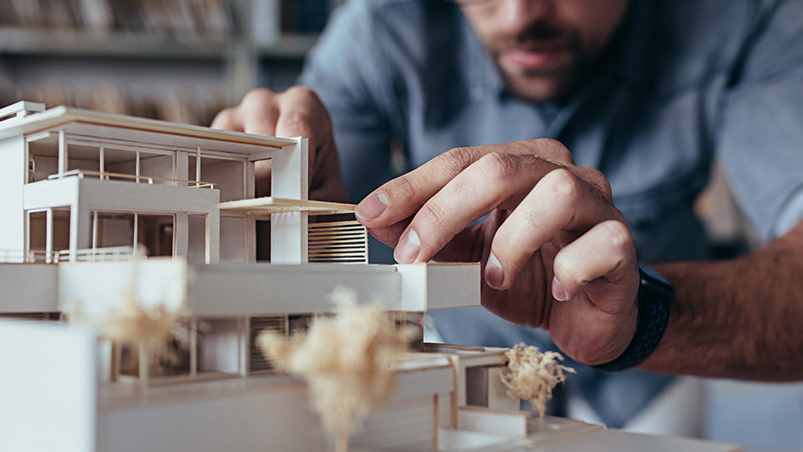 Why Is It Advisable to Hire an Architect In India?
Every one of us dreams to have a lavish house with all the necessary amenities. Of course, there is no over expectation, if you are wishing for the most beautiful house. After all, you have earned for years and saved for your dream home. So, it is well understood that your hard-earned money should be spent in building a masterpiece that fits your budget as well as enhances your prestige in society.
However, while planning to construct our own home, certain questions come to the mind of almost everyone such as – Is it okay to hire an architect? Should I get in touch with a contractor, instead of an architect? How do I find an architect in my area? Should I sketch the design of my house on my own?
Although, thinking all these questions are valid, the fact is that building a house is not a one day task as it is highly complicated. The one who holds expertise in designing and construction can only build the space under the available funds, that you can call home.
If you are in doubt and thinking, do I need to hire an architect? Let's clear it out through this write-up. Before understanding the need of an architect for building a house, first, we need to know exactly who an architect is.
They are skilled professionals who hold the license to work, design and plan buildings in different areas and cities. They are highly trained and well-versed with all the requirements for creating a functional space. Architects are people with creative minds and strong imagination. These professionals can create the best design and provide you with a par-excellent house that is even beyond your expectations.
Whether you are planning to construct a house from scratch or willing to remodel your space, architect hiring is the best decision you can make. A skilled architect will meet all your demands and expectations, you just need to have patience and look for one for getting commendable results.
There are several other reasons why it is suggested to hire an architect in India. Some of which are noted in the pointers below.
Creative work with perfection
Architects who have deep knowledge of designing and know their job well will provide you with interesting as well as creative work at a genuine price. They will never let you down and offer you unmatchable services.
In-depth understanding of client's requirements
Architects with years of experience can easily understand the requirements of their clients by evaluating their present lifestyle. They try their best to know what the house owner exactly wants and draw a construction plan by considering all the likes and dislikes of the owner. Also, they suggest changes as per the structure and plot.
No design disaster
If you think you can design your house on your own, halt please! It is not a simple drawing that everyone can make easily. Designing a house is a very complex job that requires ample attention and knowledge of all the nitty-gritties that you might miss out on. Architects have in-depth knowledge of designing and cannot commit design disasters. In case anything goes wrong, they hold the skill to handle it effectively.
Professional knowledge of the work
Architects hold mastery in designing as they keep on honing their skills through rigorous training and practice. They understand how to design every nook and corner of the space to make it look more appealing and elegant. These professionals hold a deep understanding of what they are doing and how their work will be presented.
It also helps the client to have a better understanding of how their plot, house, office or any other space is going to look like.
Suggest right material and flawless finishing
Architects know about different materials available in the market. They suggest the best and appropriate product that suits your house design. Also, they ensure that the suggested materials won't dent a hole in your pocket.
Conclusion
If you are still thinking about how to hire an architect? Don't worry much because you have landed at your destination. ADCC is the best platform where you will find skilled professionals who can help you out with all types of architectural needs. They will provide you with the best of all their services at an affordable price. So, don't think much and step ahead towards your dream home project with a professional architect.